<< All News
Friday, March 24, 2023 - 09:00 am
Categories:
Gov. Doug Burgum and North Dakota School Superintendent Kirsten Baesler celebrated the governor's signing of HB1398, which requires the teaching of computer science and cybersecurity and the integration of these content standards into school coursework from kindergarten through 12th grade.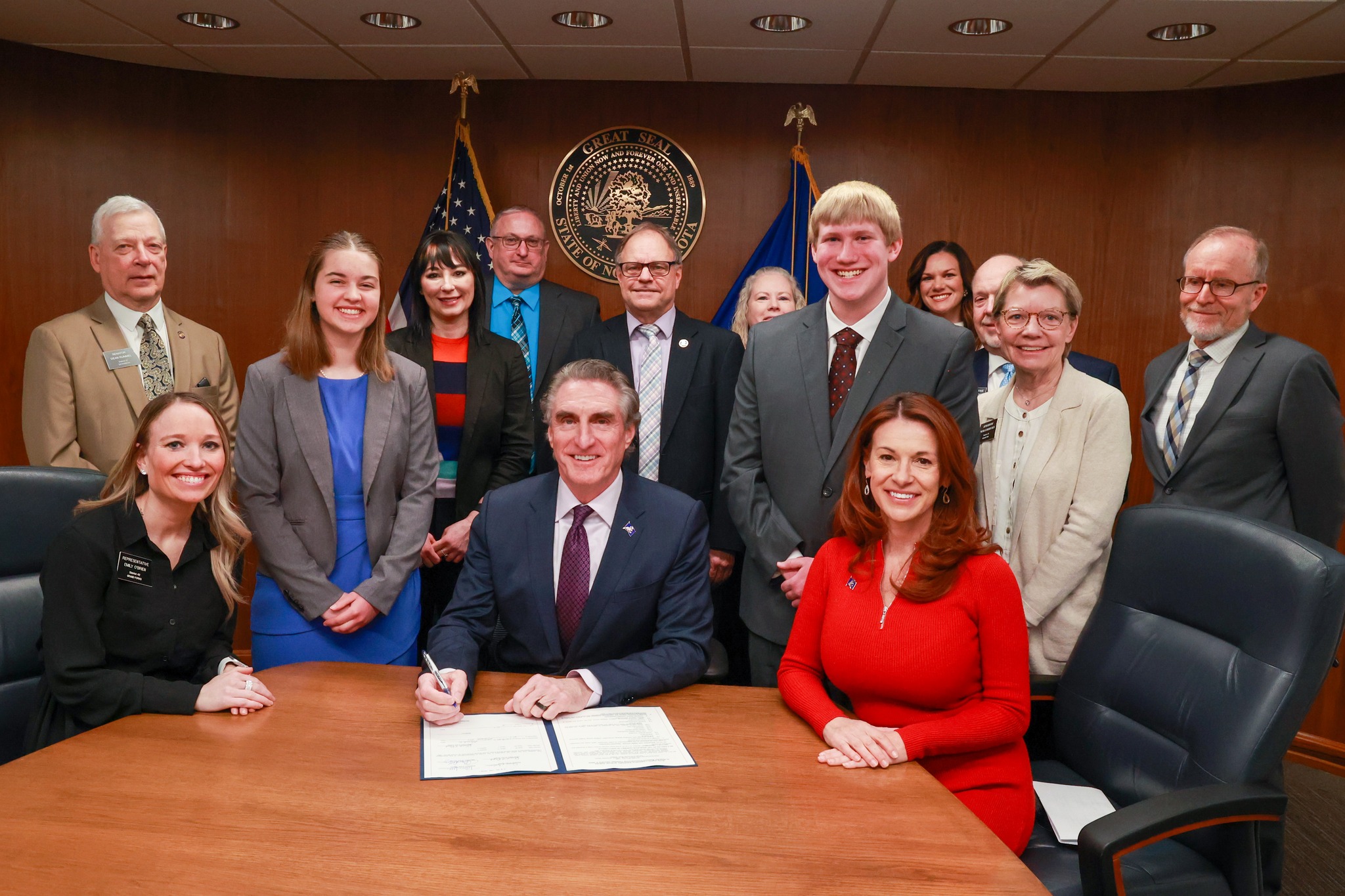 "Today is the culmination of years of work by stakeholders from all sectors to recognize and promote the importance of cybersecurity and computer science education in our elementary, middle and high schools," Baesler said at Friday's bill signing ceremony.

"Our vision is to integrate and underscore the importance of computer science and cybersecurity instruction into the classes our students take as they move through our K-12 system," Baesler said. "Under this bill, the information and knowledge our students need will be part of every grade level, which is appropriate when you consider the role that technology plays in our everyday lives."

Baesler said EduTech, a division of North Dakota Information Technology that provides information technology support and professional development for K-12 educators, will be developing examples of cybersecurity and computer science education integration plans that may be used to assist local schools develop their own plans.

Burgum said HB1398 was in keeping with his administration's emphasis on developing student and citizen knowledge of computer science and cybersecurity, which he described as "one of the most pressing issues that we have in North Dakota."

The administration's PK-20W initiative, with its vision of "Every Student, Every School, Cyber Educated," aims to ensure students have the skills and know-how to succeed in a technology-driven economy. "Our students have more access than ever to computers and technology devices in our schools. It's crucial that our students also learn cyber safety skills," Burgum said. "The ability to manage technology is also important in helping our North Dakota students to get good jobs. Employers look for students who have the skills to take on tech challenges and cyberattacks, and complete daily tasks using technology devices."
Full News Release from North Dakota Department of Public Instruction:
Burgum, Baesler applaud landmark North Dakota computer science, cybersecurity measure | North Dakota Department of Public Instruction
<< All News